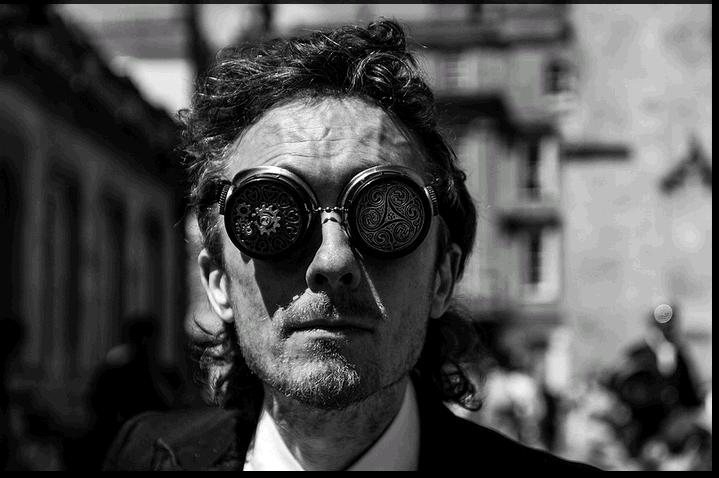 June 2013

- Nigel Powles took this shot of James wearing these custom-made Steampunk Goggles while he was out in the centre of Bath promoting possibly the last performance of Song of the Windsmith.

Part of the Bath Fringe Festival 2013 the show was performed at the Old Theatre Royal on

Sunday 9 June

. The Steampunk Theatre Company this time featured the beautifully talented dancing of Miriam Schäfer, narrated by Kevan Manwaring, with live music from

James Hollingsworth

and Sean McBride, and multi-media projections from Jonathan Hayter. Before the performance Bath Drama gave a sneak preview of their Steampunk version of '

A Midsummer Night's Dream

' (scheduled for Green Park Station a week later).


Song of the Windsmith Videos

14/11/2012 - Following the successful acoustic premiere of Song of the Windsmith at The Castle of the Muses in Scotland and the launch of the full multi-media show at Acorn Theatre in Cornwall, here's some great feedback from Bristol's The Song Diner:

"Went to see James Hollingsworth Perform in his show 'Song of the Windsmith' in Stroud - if you want to see someone who really knows how to use a 'looper' - check this man out - from creating WW1 dog fights through Peruvian mountain scapes to huge choral rock opera - and all with one acoustic guitar - just EPIC !!!"

More excellent feedback for the show includes a fabulous review from Lilian Helen Brzoska, of silverbirchproductions.co.uk:

'They are BRILLIANT Bardic Performers. James Hollingsworth is on zee guitar, a wizard of flying fingers and glorious tones. He also sings spectacularly well. Kevan Manwaring's "Song of the Windsmith" is a perfect winged chariot for them both to fly, lifting through many spheres and dropping to the Earth's Core with adept aplomb and engaged Heart energy.'.

Check out Song of the Windsmith page for more info.