"the deep and rooted James Hollingsworth" - www.permaculturemusicians.co.uk
Read more Quotes


South-West England-based James Hollingsworth has a unique, complex acoustic guitar style, reminiscent of Andalusian guitar, fusing elements of folk, blues, trance, metal and psychedelic rock. Since turning professional in 2006, he's had BBC radio airplay and interviews both locally and nationally, toured as far West as Cornwall, as far East as Kent & as far North as Scotland, notably at Priddy Folk Fayre, Two Rivers Festival, Bath Fringe Festival, Winter's End Festival + supports for Nick Harper, Cara Dillon, Hazel O'Connor, 60's legends It's a Beautiful Day and Barry 'The Fish' Melton (of Country Joe and The Fish), who said:

"It was truly a phenomenal experience hearing James Hollingsworth's music, I know now that the tradition of groundbreaking music is in good hands. Thank you, James – Barry Melton."

'Doing it the old way' by paying his dues far and wide, practising hard, and never doing the same set twice, James picks material with his mood and that of the audience. As well as being a critically acclaimed songwriter, he also performs soulful interpretations from his repertoire of 350+ covers, including solo acoustic Pink Floyd Nights.

As frontman with rock act JEBO , with whom he performed at London's Royal Albert Hall & Loreley (DE), James met and is continuing to work with legendary Island Records producer John Burns.

To navigate this site click on orange text (which indicates links) or images (hover for info first), or use the menu bar (top-right).

Join the email list
and get a

FREE

mp3!





Click to hear James' music







20/02/2013 - Hear James' latest collaboration with Jason Flinter, Breathing it In, here! Written by Jason Flinter, mixed by Hollingsworth/Flinter, mastered by James. "It all began when Jason got me into his vocal booth some months back for a paid vocal-session to record the voices for this uplifting song he'd co-written. After we'd written a couple of other tracks together, the song was still just sitting there waiting for an artist to take it on, so... I visited Jason's studio again and mixed the track, and mastered it today! Hope you enjoy it - Breathe in the Good Times!"

05/02/2013 - James' 41 minute video '29 Clips' has been cut into bite-size chunks and the pieces posted on YouTube - check out the first track, 'Mothership' - here.

04/02/2013 - "Privately Minded" by James Hollingsworth and Jason Flinter, has passed the THRESHOLD OF HOTNESS on Fandalism. Nice!

31/01/2013 - "Thanks to all you people who come along to my gigs! Just had a fantastic tour, including two Pink Floyd Nights, sold loads of my original cd's, and the brilliant feedback for my live sound these days is encouraging to say the least! Thank you all!" - James.

12/12/2012 - Listen on Soundcloud to 'Sea of Enrichment'. Written and recorded with Jason Flinter of The Song Diner and released today to launch the 'Midst the Point' album project. Jason originally came up with the song's verse and bridge then thought to himself "Hmmm, this sounds like a James Hollingsworth song!", and so invited James to work on the song with him. After discussing the ideas behind the song, James added a chorus which had been hanging around looking for a home and which turned out to have exactly the same chords as Jason's bridge! "We then wrote the mid-section together and mixed it at Jason's studio. My biggest production yet, hope you like it! Best regards, James." The album will include more Flinter/Hollingsworth co-written material as well as two of James' songs recorded with JEBO in 2009.

14/11/2012 - Following the successful acoustic premiere of Song of the Windsmith at The Castle of the Muses in Scotland and the launch of the full multi-media show at Acorn Theatre in Cornwall, here's some great feedback from Bristol's The Song Diner: "Went to see James Hollingsworth Perform in his show 'Song of the Windsmith' in Stroud - if you want to see someone who really knows how to use a 'looper' - check this man out - from creating WW1 dog fights through Peruvian mountain scapes to huge choral rock opera - and all with one acoustic guitar - just EPIC !!!"

More excellent feedback for the show includes a fabulous review from Lilian Helen Brzoska, of silverbirchproductions.co.uk: 'They are BRILLIANT Bardic Performers. James Hollingsworth is on zee guitar, a wizard of flying fingers and glorious tones. He also sings spectacularly well. Kevan Manwaring's "Song of the Windsmith" is a perfect winged chariot for them both to fly, lifting through many spheres and dropping to the Earth's Core with adept aplomb and engaged Heart energy.' - Next chance to see the show is at Birdwood House in Totnes on Sunday 2 December - check out Song of the Windsmith page for more info, all show dates are also on the gigs page!

Meanwhile, James continues to book solo gigs well into 2013, and live work with Sean McBride is starting to kick off also, with a road-test for their collaborative songs at Bristol's Seven Stars on Sunday 25 November, watch this space for developments... gigs page :-)

21/08/2012 - Read a biographical article about James by Ian Pemble at Bristol 24/7 who explains why the

"multi-talented"

James was "never born for marine biology".

02/08/2012 - James has been approached by the British Library Sound Archive to contribute some of his recordings to the archive, saying he was "putting out some great music, but sadly (apart from an old Glastonbury demo) we don't have anything of yours in the collection, I wonder if you would be interested in donating any of your releases to the Archive? Hopefully if you agree to get involved with us, with world class facilities at hand we can provide the safest possible home for your releases, both for preservation and access, for many generations to come." The collection is open to anyone (researchers, writers, fans etc) who have a British Library readers pass, they have to make an appointment to attend the archive in person at the

British Library

in London, or at the other site in Boston Spa, Yorkshire (UK). James is pleased and honoured to be asked, so is now compiling tracks to send to the archive.

26/07/2012 - James' song This Mote in Heaven has been added to a compilation of Beat Sounds from Way Out from mix-maestros Institute For Alien Research... listen for free to the whole compilation here!. This spontaneous first version of This Mote in Heaven was recorded during the summer of 2011 in one take using live looping, no overdubs. This genre of music, which makes extensive use of a Boomerang III Phrase Sampler, James calls '

Psy-Trad

' (Psychedelic Trance with Traditional instruments). James wrote the lyrics upon waking from a dream in 2004.

24/07/2012 - James is pleased to announce Song of the Windsmith, the first production of The Steampunk Theatre Company, a musical stage version of Kevan Manwaring's Windsmith novel series. Dynamic spoken word from Kevan (former Bard of Bath and Bard of Glastonbury), live multi-media visual projections from Jonathan Hayter of Figure of Speech (see also Rama), with a live soundtrack from James' using his custom live-looping pedal-board. Music, song and soaring music come together in a ground-breaking Lit 'n' Roll show! The first performance is at Carrick Castle in western Scotland, with other confirmed dates (so far) in Cornwall, London and Gloucestershire.

More details soon!



30/06/2012 - James was interviewed on Frome FM with Saravian in the Frome FM Live Lounge:

listen again

to the interview by downloading the mp3 here!

23/04/2012 - James will soon be playing 3 gigs in the Bristol area including the Macmillathon, a charity event raising money for Macmillan Cancer Support (please donate HERE) on Saturday 28 April at Marlow's, right after appearing with Sean McBride at Alfie Kingston's Acoustic afternoon at the Seven Stars just over the Bristol Bridge earlier that day. James will also be playing a short set at Bristol Folk Festival 2012 on Bank Holiday Monday 7 May. An hour from Bristol on Tuesday 1 May, James will be the featured artist at Seend Acoustic Club, who had these kind words to say in anticipation of his 2 forty-minute sets:

"A warm welcome awaits this fine musician from Bristol. James did a floorspot here back in October and we booked him on the spot. James performs regularly several times a week up and down the country honing his incredible talent. He has an extraordinary vocal and is a genius guitar player too." - details of all gigs on the gigs page.

Check out these 2 recently co-written songs from James and Sean McBride on Soundclick - catch them in Bristol on Saturday 28 April:
99 Percent
Just the Way it is

14/02/2012 - James' new video '29 Clips' has been launched on You Tube and Vimeo. 41 minutes in length, the video features 29 ~1-minute Music Clips with Slideshow/Tweakshow of photography and video clips from James' travels in the UK and Taiwan. The music previews tracks from upcoming albums with performances by Sean McBride (sax/flute) and Sandro Granda (percussion). Enjoy!

07/02/2012 - 35 new tracks have now been added to James' SoundClick musician/artist page! There's clips from the forthcoming

Eight Your Nature2

album (sneak previews of work in progress; further work begins soon with legendary producer John Burns (Genesis, Motorhead, Burning Spear, Traffic etc etc) and other musicians, including the redoubtable talents of Sean McBride (sax/flute/blues harp). Release is planned before the end of the year); also! Psy-Trad (Psy-Trance with Traditional instruments) 'Adventures in Loopland' - experimental live looping with a Boomerang III Phrase Sampler (now a permanent part of James' pedalboard)... plus! other as-yet unreleased recordings from ongoing album projects. Most clips are available for free download :-)

19/11/11 - James' new song ONE has now reached #5 in the SoundClick chart! Much gratitude to everyONE for listening :-) Hear it here!

Now back from Taiwan, James says "I had an amazing time there, met so many kind, generous and open-hearted people, played to some warmly attentive audiences and ate some sublime food! The scenery there is spectacular also, almost inevitably mystic..."

11/11/11 - the album project Elevensongs was launched in Taipei, Taiwan, coincidentally in #1 flat on the eleventh floor, where, unknowingly at first, the same text as shown on the artwork for the project (shown right) hung on the wall above James' bed for the night. This was the Heart Sutra of Buddhism, written in classical Chinese script, which, in the circular version shown to the right, James had previously chosen as the perfect artwork for his ElevenSongs project even before he knew what the script said or even before he realised that the version, shown right, was, quite remarkably, divided into 11 bamboo sections.

"Coincidence is what the Universe does for fun!" - The Eleventh Doctor (BBC)

28/10/11 - in advance of the 11/11/11 launch date for his

'Elevensongs

' album project, part of his Numerical album sequence, and marking the last day of one reckoning of the Mayan Calendar, 28 October 2011, James announces the release of his song '

ONE

', you can hear it here. Why not come to a gig to hear it played live? Go to the gigs page, or sign up for James' localised email list for news of gigs near you.

26/07/11 - James is delighted to announce that he is now working with the legendary John Burns (Genesis, Jethro Tull, Burning Spear etc etc) on the long-awaited second disc of his album Eight Your Nature, the mixes are shaping-up well, but in keeping with the characteristic delays that have become associated with the project, no release date is yet available. One thing is sure though - it'll be well-worth the wait!

02/06/11 - James has been booked to support David Ford at The Tunnels in Bristol on Thursday 16 June, full details on the Gigs Page.

08/04/11 - 17.50 BST - James has posted a whole set of songs covering his musical influences, including: Tom Waits; The Doors; Cat Stevens; Gong; Richie Havens; Gershwin; Fred Neil and more - visit James YouTube Channel and please subscribe!

25/03/11 - Check out this track featuring James on vocals - Breathing It In. Through mutual friend Sean McBride, James was invited to do a vocal session by friendly neighbourhood producer Jason Flinter of The Song Diner - It's a fresh breezy song for Spring, enjoy!

15/03/11 - James is thrilled to have been billed to support the excellent Nick Harper again, this time at the Bristol Folk House on Saturday 28 May. James is also confirmed to play at the enormous 175th Anniversary event at Bristol Zoo in mid-July, details to follow. Speaking of gigging, James' show now includes judicious use of the new Boomerang III looper installed in his updated pedalboard.

21/01/10 - Work on the second disc of Eight Your Nature continues steadily, and meanwhile here's a glowing review of James' latest release, 'Two and Two', by Dave Urwin of Live Music Scene: read it here.

10/11/10 - See James perform Side One of Pink Floyd's Dark Side of the Moon, with lightshow by Jonathan Hayter (Figure of Speech), solo with NO backing tracks! Here's Part 1 on YouTube and here's Part 2 on YouTube.

26/10/10 - James' new EP, 'Two and Two', is now available on i-Tunes, check it out here.

20/10/2010 - Free mp3 Download! James says - "I suddenly decided to record this at about 20.10, and posted it on www.jameshollingsworth.com at about 10.20." Quick work! (160kbps 6.7MB).

10/10/10 - Free mp3 Download! Announcing the official launch of the Tetraktys album project! As with Narcissus (launched 09/09/09, which so far offers 2 tracks for free download), the first track of Tetraktys is available as a free mp3. (160kbps 3.5MB). Further tracks will be made available as they are finished, on suitably synchronistic dates. James is indebted to his friend Solar Bud who pointed out that 10 is '2' in binary and therefore it is unnecessary to release 10 albums for the project and so the plan is to eventually release the cd as a double- album. See Wikipedia entry on Tetraktys.

In the words of Robert Apatow: "The Tetraktys is an equilateral triangle formed from the sequence of the first ten numbers aligned in four rows. It is both a mathematical idea and a metaphysical symbol that embraces within itself in seedlike form the principles of the natural world, the harmony of the cosmos, the ascent to the divine, and the mysteries of the divine realm. So revered was this ancient symbol that it inspired ancient philosophers to swear by the name of the one who brought this gift to humanity-- Pythagoras."

28/09/10 - Two and Two has reached number 2 in the Soundclick Chart! Thanks for listening!

20/09/10 - James' new cd EP 'Two and Two' was launched yesterday and he actually sold out at his gig in Monmouth!

The cd includes the title track with Sean McBride on sax plus 4 live recordings: Sooner or Later, Swansong and Still Lights up the Rain recorded live at Bristol's St George's Hall + a live version of Faster than Light with Sean McBride (flute) and Sandro Granda (percussion). The artwork includes the perfect 5-sided rosette formed by the dance of Earth and Venus over 8 Earth-years. More cd copies are in production, press the button below to order through Paypal!

13/09/10 - No less than twelve new videos are up today on James' YouTube Channel! Plus check out the updated images page, which also includes two brand-new JEBO galleries commemorating James' tenure as front-man for the band.

08/09/10 - 11th hour pm GMT. Announcing Free mp3 Download of Two and Two, from the ongoing album project Eight Your Nature, with Sean McBride on sax! James says; "It needs a few tweaks, but it's pretty-much there." (26/10/10 nb The free download link has been removed, hear it on Soundclick, or buy it on i-Tunes. Enjoy!)

27/08/10 - We're pleased to announce that on Sunday 28 November James will be supporting the excellent Nick Harper at Chapel Arts Centre in Bath. James is particularly happy to have landed this gig supporting Nick, who is the son of the great Roy Harper and a supreme talent in his own right. More details on the Gigs Page.

19/08/2010 - to mark the passing of 9th months, 9 weeks and 9 days since the launch of the Narcissus album on 09/09/2009, James has announced the posting of a free download of Through the Eyes of Aliens another improvisation, like the 9 minute, 99 second Paradise Lost from the same album. Through the Eyes of Aliens features Tone-Accelerated Acoustic Guitar and Hand-drums dynamically massaged with an electronic Compressor and includes spontaneous themes from Culture including Igor Stravinsky's Rite of Spring. Download it here!

05/08/10 - See the Music Page to hear new tracks for FREE DOWNLOAD featuring the talents of Sean McBride (sax), Sandro Granda (percussion) and Zac Gregory (double bass)! There are 2 tracks for free download and more on the way.

27/07/10 - What an excellent night! Sean McBride accompanied James on stage with sax and flute and received an enthusiastic encore from the main act. Barry 'The Fish' Melton, of Country Joe and The Fish, like the true gentleman he is, wrote a few words (reproduced below) and even bought a couple of cd's, which James gratefully signed for him. Also, David and Linda LaFlamme of It's a Beautiful Day very kindly swapped a copy of their classic eponymous psychedelic album for James' Coming Home to Stay.




"It was truly a phenomenal experience hearing James Hollingsworth's music, I know now that the tradition of groundbreaking music is in good hands. Thank you, James - Barry Melton"

- Barry 'The Fish' Melton (of Country Joe and The Fish)






22/06/10 - 3 great new live mp3's recorded at Bristol's St George's Hall, famous for its exceptionally fine acoustic, are now available for free download:

click to download mp3 ------> Sooner or Later (live at St George's Hall)
click to download mp3 ------> Swansong (live at St George's Hall)
click to download mp3 ------> Still Lights up the Rain (live at St George's Hall)

29/03/10 - James' set at Winter's End Festival was very warmly received, here's a review from Get Ready To Rock:

"Yet another change of style next with James a solo singer/guitarist full of charisma and star quality singing his folky/rock numbers in for me the manner of Cat Stevens who I am sure would have been proud to have written some of the material on display. Really enjoyed the up-tempo Way Down South and the very atmospheric Still Lights Up the Rain complete with the story behind the song, both from his 2007 CD Coming Home to Stay. James combined rich vocals, excellent guitar and great humour between numbers, he played a strong set finishing with 2 real gems Faster Than Light and the epic Mothership."

03/03/10 - In anticipation of his two gigs in Stroud on Saturday 13 March at Winters End Festival and The Prince Albert, James will visit Stroud FM on Tuesday 9 March for a live interview and acoustic session from about 17.15 before zooming up to his gig in Leominster that evening. The station is up the dusty end of the FM dial: FM 107.9.

28/01/10 - James has been confirmed to play a set on Saturday 13 March at Winters End Festival, in Stroud. Also on the bill are Magenta, Galahad, Touchstone as well as fellow Bristol-ites Crimson Sky (Bristol) and Andonova (based in Cheltenham). The festival website annouced: "James Hollingsworth is a Bristol-based singer-songwriter with an exciting guitar style. He will be best known to prog audiences as the former lead singer of Jebo. We are thrilled that James has agreed to play a short afternoon acoustic set at the Festival." The very same evening James will play a full set at The Prince Albert, also in Stroud. Full details on the gigs page.

08/01/10 - James now has a Facebook artist page - James Hollingsworth (Musician/Artist) - please show your support!

02/01/10 - Happy New Year! Download the taster mp3 from the forthcoming second disc of James' double album Eight Your Nature here. It's called Deny Denial, released today at 5.12 pm GMT, 512 days (8 x 8 x 8) after the release date of the first disc, 08/08/08.

04/11/09 - James' performance of words and music at the Garden of Awen event at the Chapel Arts Centre in Bath was a great success. Host Kevan Manwaring said in his blog (where you can read the full review):

"The evening ended with a blistering set from guitar-shaman and sublime songsmith, James Hollingsworth. He was 'resurrected' for a stunning encore of Led Zep's classic 'In My Time of Dying' – a suitable way to end our evening themed on 'Death & Rebirth'."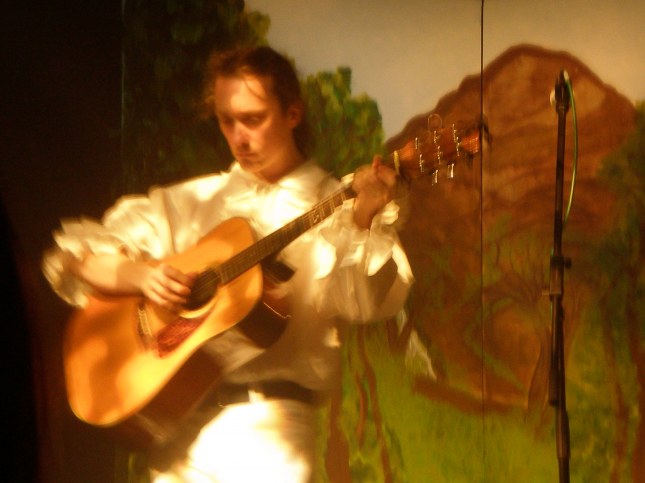 18/09/09 - James has been made Artist of the week by Lemonrock, the live music website. Nice.

09/09/09 - Free mp3 Download - get it here! This is an instrumental exactly 9 minutes and 99 seconds long called Paradise Lost (Book One), inspired by the work of John Milton, the 17th Century English poet, where the multitude of fallen Angels wake up for the first time in the lake of fire. Milton wrote "Nine times the space that measures day and night to mortal men, he with his horrid crew lay vanquish'd, rolling in the firey gulf". This is the first track of an album called Narcissus, each track will be available for free download until they total 9 tracks and they become a CD release costing (yes, you guessed it) £9.

02/09/09 - Great News! James' music has been played on BBC 6Music's BBC Introducing show, hosted by Tom Robinson no less. They contacted James asking for a copy of his song Way Down South and played it on Monday 24th August along with a phone interview with Rachel, the lady who recommended James to them via the link on the promo page of this website.

Rachel and her partner Ade came to James' recent gig in Polperro (Cornwall) after a friend of theirs, who'd witnessed a Hollingsworth gig in Wales, told them he was a 'must see'. Live on the air, she praised James' unassuming approach and the passion in his performance, saying his music "captures your soul!!" Here's the tracklisting for the show.

03/06/09 - 'The Joyful Returning' – new CD released today! It's a compilation of Journeys, more than 72 minutes of music, available from today for £6. This cd comprises a load of far-out music almost guaranteed to bring you back to where you are already. Go to James' MySpace Blog to view the track listing or just press the Buy Now button below.


19/05/09 - The West Sussex County Times did a nice piece on James last week in anticipation of his successful gig at the Boar's Head in Horsham. The venue described the set as "simply magic". Read the preview here, or click the picture.





10/05/09 - After a long and committed term as singer and frontman with rock band JEBO, James has now left the band. He was last seen outside the Wellington pub in north Bristol driving a gold-coloured Vauxhall Astra into a red-ochre sunset.

29/04/09 - Click here for the BRFM Video interview and studio set. Included in this 65 minute video is a new song, 'Get back to the Here and Now', which James wrote an hour before the interview using a mandolin he took down from the studio wall, dusted off and repaired. Other songs include 'You're not the only one' (from the Coming Home to Stay album), 'Deny Denial' (from the forthcoming second disc of James' Eight Your Nature album) and the frequently requested Arabesque instrumental 'Dervish'. Versions of the songs encoded at higher quality will be posted on YouTube and Myspace in due course...

12/03/09 - Get the new CD, Precession of the Albums, here! For just £5 you get 12 songs hand-picked from the live favourites so often requested at gigs. There's more information on the album page here including track-listing, or just press the button below to order it immediately:




home | gigs | music | images | more | promo | contact



© 2002 - 2012 James Hollingsworth. All rights reserved.