"the deep and rooted James Hollingsworth" - www.permaculturemusicians.co.uk
Read more Quotes


South-West England-based James Hollingsworth has a unique, complex acoustic guitar finger-style, reminiscent of Andalusian guitar, fusing elements of folk, blues, trance, metal and psychedelic rock. Since turning professional in 2006, he's played numerous festivals, private bookings, folk, acoustic and rock venues nationally, supported Nick Harper, Cara Dillon, Hazel O'Connor, 60's legends It's a Beautiful Day and Barry 'The Fish' Melton (of Country Joe and The Fish), who said:

"It was truly a phenomenal experience hearing James Hollingsworth's music, I know now that the tradition of groundbreaking music is in good hands. Thank you, James – Barry Melton."

'Doing it the old way' by paying his dues far and wide, practising hard, busking nationally, and never doing the same set twice: James picks material with his mood and that of the audience. As well as being a critically acclaimed songwriter, he performs soulful interpretations from his repertoire of 350+ covers, including solo acoustic Pink Floyd Nights (also

Stereophonics, Eagles, Oasis, The Doors, The Rolling Stones, Neil Young, Fleetwood Mac, Tom Petty,

Sting,

Travelling Wilburys, Supertramp, Genesis, Yes, Richie Havens; They Might be Giants, Beatles, Dylan, John Martyn, Tim Buckley, Cat Stevens

+ Jazz & Blues Standards, Traditional faves etc etc).

As frontman with rock act JEBO , with whom he performed at London's Royal Albert Hall & Loreley (DE), James met and is continuing to work with legendary Island Records producer John Burns.


Join email list








Click to hear James' music







23/01/2014 - Hoping you're starting the New Year with Hope, the World is certainly full of change!

After a recharge over the festive season, James is hitting the ground running. With headline shows booked at the intimate sit-down-and-suck-a-chocolate-then-quietly-enjoy-the-music-oriented Seend Acoustic, near Devizes, on Wednesday 5 February, and devoted Live Music venue, The Wunder Bar in Midsomer Norton, near Bath, on Thursday 6 February, James is preparing three special sets comprising two hours of entirely acoustic 'unplugged' material using multiple instruments and tunings for Seend, and a 60 minute all-original 'Loop' set for The Wunder Bar. Both shows will be filmed/recorded, so please come along!

James and producer John Burns, who now live in neighbouring villages have been regularly in touch, and Burns' envaluable influence was given a boost when he saw James' recent set at a local pub, "that was phenomenal, Jamesie," the dyslexic genius Burns observed, "most people won't really understand just how much skill goes into doing that looping thingie, but I was watching... you've matured." John has been distracted by other commitments in recent months, and he's keen to return to his passion for making music in 2014. Meanwhile James is continuing to hone his skills as a player.

It was a busy Autumn for James, and a painful one, since he fell down a bank whilst collecting wood in October. Nevertheless, the show must go on, and with the help of yoga and regular limbering, James bravely soldiered on through his Pink Floyd Night gig schedule and his cracked ribs gradually healed in time for his entirely acoustic performance at Goring Unplugged on Fri 22 Nov, a 15 minute set, which was filmed with 4 cameras - they have the tapes, hopefully they'll post it up soon and we can have a look at it.




We won't have to wait for videos though, since James' December tours to the North and South East, were for the most part also filmed, including James' set at West Heaton First Friday, supporting BBC Radio 2 Folk Award nominees Katriona Gilmore & Jamie Roberts, the video for which, watch it here, has now passed the THRESHOLD OF HOTNESS on Fandalism.

Yet more video news, because Acoustic Nations turned up with broadcast-quality cameras to film James' headline set at Ragged Trousered Folk in Hastings on Wednesday 11 December (supported by Starscream's Adam Lightspeed). They may take 4 months to process the video, so again, more news when we have it :-)

James and his wife have settled into their cottage in Somerset, enjoying the clean air, babbling streams and warm hearth. The spirit of this rural, locally-minded life has inspired James to play more private house concerts, or Parlour Gigs, which are also being filmed, including December's parlour gig at Tollgate in South Wales, where he's set to play again this weekend (invites only). Watch the first Tollgate video here

In 2014 James will be getting more focussed on promotion and touring/filming, look out for more news soon!



03/10/2013 - Sandro Granda's video of James playing his song 'Last Stand' in the picturesque surroundings of The Forest of Dean has been posted on the New Musical Express (NME) website: see it here. James says, "Written in 1989, the song is a plea for environmental awareness using breath as a metaphor for the will to act, to do something in the face of the man-made environmental crisis that has, if anything got worse in the 24 years since the song's inception. It is great to see NME post this song, and it must be said that organised non-violent struggle against Ecocide has become stronger since 1989 too, especially with the rise of the net. Here's to a more-connected world - and to Humanity's whole-hearted acceptance of our ecological responsibility!"

26/09/2013 - check out James' page on the new MySpace

18/09/2013 - Announcing 13 Moons and Adventures in Loopland v1.0, two new promo cd's, both issued for promotional purposes, but also for sale here and at James' gigs.

13 Moons represents a thorough taster of James' collaborations with Jason Flinter, JEBO (with producer John Burns), Sean McBride and Sandro Granda, along with some choice original Loops. In an effort to show James' broad range of styles, three popular tracks from previous albums have been included also, and a previously unreleased version of

Faster than Light

.

13 Moons comes with James' hand-drawn Pictish and Celtic Spirals/Knots on the sleeve. If you'd like a copy, get it here for £10 (running time is a monster 73 mins 55 seconds), thanks in advance:
1. Breathing it in (with Jason Flinter)
2. Some Say (live loop)
3. In your own Time (live loop)
4. Saturn Ruin (live loop)
5. Still Lights up the Rain (live at St Georges Hall)
6. Rumi (from Eight Your Nature)
7. Mothership (from Eight Your Nature2)
8. Faster than Light (with Sean and Sandro, 2007)
9. Sea of Enrichment (with Jason Flinter)
10. Clouds Begin their Reign (with Jason Flinter)
11. Privately Minded (slow) (with Jason Flinter)
12. Way Down South (from Coming Home To Stay)
13. Far away from Home (with JEBO) - note that this version is James' mix, he and John Burns will soon be remixing for 'proper' release.


Adventures in Loopland v1.0 - Psy-Trad (Psychedelic Trance/Rock with Traditional Instruments) With guitars, vocals, percussion, flutes, harmonicas, 'synth' noises, nothing pre-recorded, no backing tracks:

1. Some Say
2. In Your Own Time
3. Saturn Ruin
4. Hotter (part of The Game of Clouds and Rain)
5. Life's what you make it (Talk Talk)
6. Remembering (part of The Game of Clouds and Rain)
7. This Mote in Heaven
8. The Salmon Song (Steve Hillage)
9. Run Like Hell (Pink Floyd)
10. Dust my Broom (Elmore James)
11. Strawberries (part of The Game of Clouds and Rain)

(please note that all covers are bonus tracks only).

Get the cd before v1.0 becomes v1.1 (the covers are likely to be replaced)! (It's £10, running time 62 mins 44 seconds) on Sunday 28 November James will be supporting the excellent Nick Harper at Chapel Arts Centre in Bath. James is particularly happy to have landed this gig supporting Nick, who is the son of the great Roy Harper and a supreme talent in his own right. More details on the Gigs Page.

19/08/2010 - to mark the passing of 9th months, 9 weeks and 9 days since the launch of the Narcissus album on 09/09/2009, James has announced the posting of a free download of Through the Eyes of Aliens another improvisation, like the 9 minute, 99 second Paradise Lost from the same album. Through the Eyes of Aliens features Tone-Accelerated Acoustic Guitar and Hand-drums dynamically massaged with an electronic Compressor and includes spontaneous themes from Culture including Igor Stravinsky's Rite of Spring. Download it here!

05/08/10 - See the Music Page to hear new tracks for FREE DOWNLOAD featuring the talents of Sean McBride (sax), Sandro Granda (percussion) and Zac Gregory (double bass)! There are 2 tracks for free download and more on the way.

27/07/10 - What an excellent night! Sean McBride accompanied James on stage with sax and flute and received an enthusiastic encore from the main act. Barry 'The Fish' Melton, of Country Joe and The Fish, like the true gentleman he is, wrote a few words (reproduced below) and even bought a couple of cd's, which James gratefully signed for him. Also, David and Linda LaFlamme of It's a Beautiful Day very kindly swapped a copy of their classic eponymous psychedelic album for James' Coming Home to Stay.




"It was truly a phenomenal experience hearing James Hollingsworth's music, I know now that the tradition of groundbreaking music is in good hands. Thank you, James - Barry Melton"

- Barry 'The Fish' Melton (of Country Joe and The Fish)






22/06/10 - 3 great new live mp3's recorded at Bristol's St George's Hall, famous for its exceptionally fine acoustic, are now available for free download:

click to download mp3 ------> Sooner or Later (live at St George's Hall)
click to download mp3 ------> Swansong (live at St George's Hall)
click to download mp3 ------> Still Lights up the Rain (live at St George's Hall)

29/03/10 - James' set at Winter's End Festival was very warmly received, here's a review from Get Ready To Rock:

"Yet another change of style next with James a solo singer/guitarist full of charisma and star quality singing his folky/rock numbers in for me the manner of Cat Stevens who I am sure would have been proud to have written some of the material on display. Really enjoyed the up-tempo Way Down South and the very atmospheric Still Lights Up the Rain complete with the story behind the song, both from his 2007 CD Coming Home to Stay. James combined rich vocals, excellent guitar and great humour between numbers, he played a strong set finishing with 2 real gems Faster Than Light and the epic Mothership."

03/03/10 - In anticipation of his two gigs in Stroud on Saturday 13 March at Winters End Festival and The Prince Albert, James will visit Stroud FM on Tuesday 9 March for a live interview and acoustic session from about 17.15 before zooming up to his gig in Leominster that evening. The station is up the dusty end of the FM dial: FM 107.9.

28/01/10 - James has been confirmed to play a set on Saturday 13 March at Winters End Festival, in Stroud. Also on the bill are Magenta, Galahad, Touchstone as well as fellow Bristol-ites Crimson Sky (Bristol) and Andonova (based in Cheltenham). The festival website annouced: "James Hollingsworth is a Bristol-based singer-songwriter with an exciting guitar style. He will be best known to prog audiences as the former lead singer of Jebo. We are thrilled that James has agreed to play a short afternoon acoustic set at the Festival." The very same evening James will play a full set at The Prince Albert, also in Stroud. Full details on the gigs page.

08/01/10 - James now has a Facebook artist page - James Hollingsworth (Musician/Artist) - please show your support!

02/01/10 - Happy New Year! Download the taster mp3 from the forthcoming second disc of James' double album Eight Your Nature here. It's called Deny Denial, released today at 5.12 pm GMT, 512 days (8 x 8 x 8) after the release date of the first disc, 08/08/08.

04/11/09 - James' performance of words and music at the Garden of Awen event at the Chapel Arts Centre in Bath was a great success. Host Kevan Manwaring said in his blog (where you can read the full review):

"The evening ended with a blistering set from guitar-shaman and sublime songsmith, James Hollingsworth. He was 'resurrected' for a stunning encore of Led Zep's classic 'In My Time of Dying' – a suitable way to end our evening themed on 'Death & Rebirth'."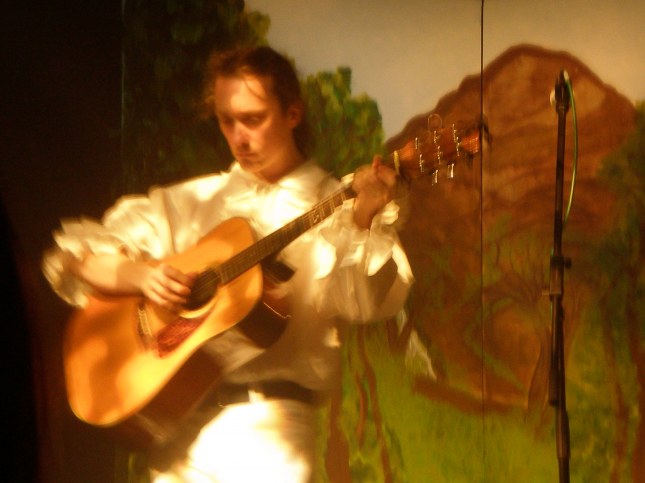 18/09/09 - James has been made Artist of the week by Lemonrock, the live music website. Nice.

09/09/09 - Free mp3 Download - get it here! This is an instrumental exactly 9 minutes and 99 seconds long called Paradise Lost (Book One), inspired by the work of John Milton, the 17th Century English poet, where the multitude of fallen Angels wake up for the first time in the lake of fire. Milton wrote "Nine times the space that measures day and night to mortal men, he with his horrid crew lay vanquish'd, rolling in the firey gulf". This is the first track of an album called Narcissus, each track will be available for free download until they total 9 tracks and they become a CD release costing (yes, you guessed it) £9.

02/09/09 - Great News! James' music has been played on BBC 6Music's BBC Introducing show, hosted by Tom Robinson no less. They contacted James asking for a copy of his song Way Down South and played it on Monday 24th August along with a phone interview with Rachel, the lady who recommended James to them via the link on the promo page of this website.

Rachel and her partner Ade came to James' recent gig in Polperro (Cornwall) after a friend of theirs, who'd witnessed a Hollingsworth gig in Wales, told them he was a 'must see'. Live on the air, she praised James' unassuming approach and the passion in his performance, saying his music "captures your soul!!" Here's the tracklisting for the show.

03/06/09 - 'The Joyful Returning' – new CD released today! It's a compilation of Journeys, more than 72 minutes of music, available from today for £6. This cd comprises a load of far-out music almost guaranteed to bring you back to where you are already. Go to James' MySpace Blog to view the track listing or just press the Buy Now button below.




home | gigs | music | images | more | promo | contact



© 2002 - 2013 James Hollingsworth. All rights reserved.