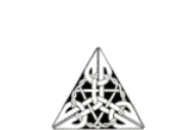 "Honest, down to earth meaningful lyrics. The world needs more music like this."

-

Folk Blues and Beyond Read more Quotes





Collaborations and Compilations

JEBO | Sean McBride | MaHat | Sandro Granda | Zac Gregory | Xavier Panades
Open Mike Cafe | Art for Lands Sake | Wayfaring Strangers | Earthstars | Figure of Speech





James' Blog on MySpace

James uses: n-Track Studio and GIMP software; Newtone Strings.

Alexander Technique for Singers and Non-Singers. For Alexander Technique lessons in Bristol, UK, try Ali Burrows.



Marek Woznica, maker of Geodesic Domes and craftsman: Metal Storm.

More James Hollingsworths:

(James) Neil Hollingsworth
(Atlanta, GE, USA) Painter
James Hollingworth (no 's', but wtf)
(Sweden) Singer/Songwriter
James Hollingsworth
(UK) Seismologist and music lover
James Hollingsworth
(Las Cruces, NM, USA) Painter
James Hollingsworth
(Seattle, WA, USA) Drummer
James Hollingsworth
(Nottingham, UK) Guitarist

Holling(s)worth Etymology



| | |
| --- | --- |
| | Download James' Granary Seed Bread recipe as pdf. |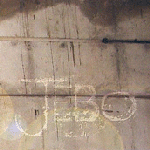 JEBO is the international rock band who claimed James as lead vocalist and frontman from their first gig in 2003 (supporting Wilko Johnson) until he left in Spring 2009. JEBO's debut album, Sinking Without You, featuring James on vocals was produced by legendary producer John Burns, famous for his work with Genesis, Jethro Tull, Burning Spear and others was mixed by Ben Findlay of Peter Gabriel's Real World Studios and was released to the German market with a whole new album cover in late 2008.

The new line-up are continuing to work with John Burns and have now released their second album, "

Settle Up or Settle Down

" - check the JEBO website for news!

Buy Sinking Without You at the JEBO website.

"A Masterpiece" – Classic Rock Society.

"Phenomenal" - Planeta Rock.

"Buy this album it is awesome!!! James Hollingsworth has put a passion into the vocals that I have not heard in a commercial album in a long time. His vocal style is reminiscent of Michael Stipe at times, but this music has a passion that puts REM to shame." - Bristol Rocks.


JEBO's many successful gigs with James included The Royal Albert Hall, memorable appearances for the Classic Rock Society, supporting Mostly Autumn and It Bites and Night of the Progs at Loreley in July 2007, supporting the original line-up of ASIA, Jethro Tull and Fish. You can see songs from this performance here on You Tube.

Listen to more JEBO tracks on MySpace.

While you're at it, check out this poignant JEBO video on You Tube - "7th Day".





The Open Mike Cafe is a weekly internet radio show. The artists compiled on this audio CD have appeared often on the show and have graciously given their permission to be a part of this CD. All profits will go to feed the hungry via Antsy McClain's Charity Flamingoheads With Heart.

The album is for sale for just $14.99 from the Cafe Press.com where payments are by credit/debit card.

The songs and artists included are as follows:

1 - Jeff Black - Hollow Of Your Hand
2 - Barry McCabe - Bye Bye Johnny Be Good
3 - Carrie Wade - Cuddling with Doom
4 - Black Angel - Beautiful Women Beautiful Eyes
5 - Bobby Pennock - Parables Unfold
6 - The Mimi Burns Band - Shadow Man
7 - Dan Chauvin - Everywhere But Here
8 - Elaine Romanelli - Fly
9 - Phillip Flathead - The Ballad of Timothy Leary
10 - Amy Maja - Old Paper Lanterns
11 - Henrietta the Silence - You May Only Hold Me To Your Heart
12 - Kathy Fleischmann - Travelers
13 - Paul Liddell - Brighter Lights
14 - Briana Lynn - The Man He Used To Be
15 - Danan Healy - What I Want
16 - James Hollingsworth - Cast Down From The Skies - from the album Coming Home to Stay
17 - Tim Young - Drifting Cowboy
18 - Tina Mancusi - Dusted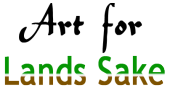 Art for Land's Sake is a compilation of songs by 17 artists created by Land Roots to raise funds to purchase land. The Land will be nurtured using Permaculture principles to plant native trees, grow good food for a Veg Box Scheme and increase Biodiversity. The aim is to have a small sustainable community based on the land who will be the hub for all the activities that take place there (including music gatherings, craft workshops, arts events, setting up a recording studio and much more).

The whole album, or individual tracks may be downloaded from All4Artsists.com and the CDs are for sale for just £5 + P&P. Each CD sleeve is a uniquely handmade work of art and individually numbered. The first CD run is limited to 50 copies so get in there quick!!! It may be purchased from the Art for Land's Sake MySpace site where payments are via Paypal.

1 - Freida Mai - Rising Sun
2 - Rory McLeod - Defending Our Homes
3 - Meets Guitar - Sunlight
4 - Fast Fun - I Met A Guru
5 - Alex Clegg - Elephant God
6 - Benjamin Wetherill - Jason
7 - Leon Rosselson - The World Turned Upside Down
8 - Landerim - Flatfoot Back to Dryden
9 - Papa Chubbs - She's Like A River
10 - Navigator - Land's End
11 - Idiot Joy - Alright
12 - James Hollingsworth - Still Lights Up The Rain - from the album Coming Home to Stay
13 - Krafla - Synthesised People Cheering
14 - Stanton Delaplane - Melpomene, Her Tragedy
15 - Steve Ison - Destination
16 - Sharron Kraus - Anachie Gordon
17 - George Thomas - The Curlew

Land Roots is about realising the power that we have to believe in our ability to create positive change. See the Land Roots website for more information.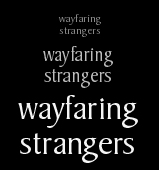 Wayfaring Strangers is the brainchild of Brother Eden Douglas (Alberquerque, New Mexico), who writes:

"Simply put, the mission is to set a standard of excellence in not only 'who' we listen to, but 'why' we listen to them. The days of following artists and musicians just because they're pleasing on the eye or possess fit bodies is over. SOUND MIND and MUSIC MAGAZINE is my desire to lead the way to those wayfaring strangers who do music simply because they HAVE TO..., and were born to do what they do. This magazine will be all about THE MUSIC and the hearts and souls of those artists willful and talented enough to create their own unique voice in this incredible artform."

When James' MySpace page was launched in January 2006, one of his songs, 'RUMI' (an improvisation based on the words of Jalal ad-Din Rumi, the 13th Century Sufi poet), was heard in the US by Brother Douglas who was inspired to release this high-quality Review CD, 'Wayfaring Strangers SOUND MIND and MUSIC REVIEW', showcasing the talents of 18 artists he 'discovered' on MySpace. These were Trouble Over Tokyo, Tom Fox, Craig Lyons, Jono McCleery, ReddSoul, Jon McLaughlin, Sam Beer, Eoghan Colgan, Paul Mac Innes, Brother Luke, Justin Thorne, Jamie Woon, James Hollingsworth, Paul Aiden, James Chadwick, don Conoscenti, Mandala and TaoBrothers of EdenDust.



Download artist bio's as a .pdf.

'RUMI' can still be downloaded for free on James' MySpace page.

"Imagine the time when the part that you are
Is going back to the source where it came from.
Listen- if you can bear it.
In the body of the world, they say, there is a soul.
But we have our ways that will never be told...
Listen - A union with a friend means not to be who you were,
But to be instead silence, quietness, a place, landscape, a view...
where the language is seen from the inside.
There are hundreds of ways to go down and kiss the earth.
In the body of the world, beyond our ideas of right and wrong, there is a field.
I'll meet you there.
When the soul lies down on the grass, the world is too grand to describe..."

words by Jalal ad-Din Rumi.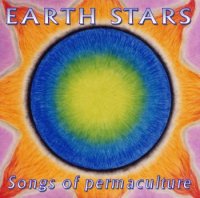 Earth Stars is a compilation of songs by 13 artists inspired by a love of the planet and the desire to promote a sustainable lifestyle. It was put together by Aranya, of Aranya Gardens, and may be purchased from The Permaculture Association online shop. Read More.

"Earth Stars is one of the best acoustic albums I have heard....Just like to say Earth Stars is fantastic. How the people on it have not been signed up by record companies just goes to show what a sad state the music biz is in." - Stuart Munro.

"There are some real gems on board just waiting to be discovered." - Pete Cow, of Steward Wood.

"I absolutely love the Earth Stars CD... this album is superb!" - Graham Burnett, Permaculturist Author.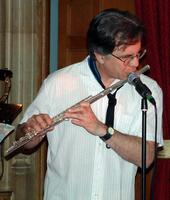 Sean McBride and James have been consuming coffee and creating music together for some years now, mostly in the studio, but also accompanied live by Sandro Granda on percussion and Zac Gregory on Double Bass.

Brought together by a helpful local milkman (local delivery of milk is a quaint custom still extant in most of the UK), the two musicians pooled their complimentary expertise to record their first track, the 13-minute Arabic-sounding Dervish, in 2001. Based on a theme James composed in 1990, Sean added his considerable compositional and arranging skills, with virtuosic flute-playing. Here's Sean's new home on the web.

James and Sean have also made soundtrack music for films, including the movie The Pilgrimage in 2005, based on the journey of a local artist (Jonathan Hayter, of Figure of Speech) on the Road to Santiago, in northern Spain.

Film-makers looking for original music for their films should check out MaHat Music for further details.

Originally from San Francisco, Sean's father, Dick McBride used to hang out with Allen Ginsberg and Lawrence Ferlinghetti (among other Beat luminaries), so we asked him "So, Sean, what was it like growing up with Allen Ginsburg and those other guys hanging out at your house?"
Sean replied without taking a breath "F#ck! I don't know, they were just guys with beards that my dad knew! They were all right I guess, I ignored them, I was upstairs listening to Jimi Hendrix." Thanks, Sean.

Among other things, Sean also plays sax with the Spectrum Party Band, blows sax with Roxy Magic (when Lee Sullivan is too cool to play), teaches sax, and amazingly still manages to find time to wail sax with the infamously defunct MoFunk. Must be the coffee.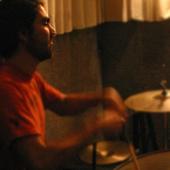 Sandro Granda, drummer with Bristol-based experimental rock band Grandes and Compadres, photographer, film-maker and grandson of the famous Peruvian diva Chabuca Granda has inherited his family's musical genes.

Sandro and James met at Tantric Jazz Cafe, where James had a residency for more than five years and after losing each-other's telephone numbers several times over the following six months they eventually put their plan to make music together into casual action.

They soon agreed that they communicated well musically and have played often since then, choosing to ignore the common route of using a full drum-kit for an 'acoustic band' and opting for an eclectic mixture of hand percussion which more closely compliments the sound level and texture of the acoustic guitar. It works.

Together with Sean McBride, on flute, harmonica and sax, and later Zac Gregory on Double Bass, they've developed a set of dynamic interpretations of James' songs, having played gigs at Bristol's Eldon House, the stately home of Coombe Lodge, Coleford Music Festival, Two Rivers Festival, Priddy Folk Festival and the wonderful Spiegel Tent at Bath Fringe Festival playing a set of songs by the late great Tim Buckley with Danny Shayler (Chris Jagger) on guitar.

They're now in deep cover accessing influences on their psychic undercurrents and reprogramming their musical conditioning. This lengthy process sometimes involves tea and cake in various forms.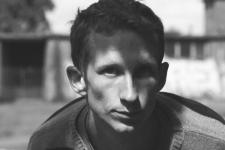 Zac Gregory is a versitile Bass guitar player and music teacher, based in Bristol. His numerous projects include Poppy and Friends (off-kilter punk-acoustic melodic clangings), the gifted husky-voiced songstress Siddy Bennett and mental experimental post-rock band Bent Echo. He can occasionally also be seen wielding his bass synth at Mr Wolf's in Bristol, mixin' it 'op' with eclectic semi-resident Drum 'n' Bass collectives.

Zac was introduced to James by the well-connected Sandro Granda who had heard James blurt out his dream of having his songs accompanied by double-bass. Suddenly Zac was there with this unlikely instrument, welcoming the opportunity to pluck it live. They went on to perform at Two Rivers Festival, Priddy Folk Festival and the wonderful Spiegel Tent at Bath Fringe Festival playing a set of songs by the late great Tim Buckley with Danny Shayler (Chris Jagger) on guitar.

If you live in Bristol and need Bass lessons, contact Zac Gregory by email on Musicisfunnyshapes@yahoo.co.uk
or phone 07846 942060. Here's Zac's MySpace.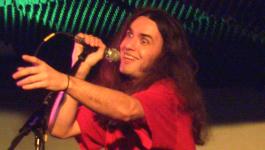 Xavier Panades, an outspoken sometime thrash-metal vocalist from Catalonia, met James several years ago when James played a few gigs at a second-hand book and coffee shop in Bristol called The Circle (formerly Circle Books).

Some time later, Xavier landed a record contract with a company in Valencia and James agreed to help him record an album of updated covers of Catalan classics at his studio.

During the first session Xavier showed his talent as a mixture of a reciter, comedian, declaimer and rhapsode in a spoken-word track called Els Amants and James suggested he focus on this side of his creativity. Xavier agreed.

After only three weeks of intense inspiration and creativity, Xavier returned to James' studio with co-creator Errol Hewitt on guitar and recorded in just one day the 11-track mini-album Per que no li dius?. James mixed and mastered the album, adding some additional instrumentation and sound effects. Els Amants thus became the platform and benchmark from whence Errol and Xavier began to develop their unique style and attract a burgeoning worldwide audience.

James' interview with Xavier Panades is now available to read on the Bristol Rocks Website.




home | gigs | music | images | more | promo | contact



© 2002 - 2012 James Hollingsworth. All rights reserved.