Press and Media Quotes





"James Hollingsworth plays a darn mean acoustic guitar and knows his way inventively around his pedals. He's an energetic and animated front man and has a fine set of vocal chords. His music was one of the weekend's highlights." - Andy Read – Winters End Festival

"Amazing" - Visual Radio Arts

"guitar maestro" - Ragged Trousered Folk, Hastings

"Great acoustic Singer/Songwriter" – The Platform Tavern, Southampton.

"Impressive Singer/songwriter with the, at first, hidden twist of the sound effects that James adds as he goes along. What??? Cracking songs, excellent musicianship and his looping sonic Maze of sound has to be seen..... and heard to be believed. A must see act!" - www.wunderbar.co.uk

"James never fails to surprise and delight with his many-textured music. Always a great favourite at the Club" - Seend Acoustic Club

"This Saturday at The Rose & Crown, we welcome back ace guitarist James Hollingsworth, he plays a great range of music from folk and blues to rock and psychedelia. His Pink Floyd evening last year was incredible! Prepare to be entertained!" - Rose and Crown, Charlbury

"we are pleased to welcome back the wonderful James Hollingsworth. No-one puts more thought and feeling into his songs than James, building up the texture of his pieces like a work of art. With his beautiful vocals, and his careful and precise guitar playing, James is a consummate performer." - Seend Acoustic Club

"A one man orchestra, a sonic soundscape, the beats, the bangs and overall....... the songs" - www.wunderbar.co.uk

"A popular visit, James' original tunes never fail to impress." - North Devon Gazette

"incomparable" - Seend Acoustic Club

"Fascinating one man band James Hollingsworth comes to Midsomer Norton's Wunderbar tonight. James conjures some wonderful soundscapes with guitar effects and loops to create colour and build the suspense." - Somerset Guardian

"James has always impressed us with his thoughtful & lyrical songs. Superb singing and delicate guitar work make for a captivating performance." - Seend Acoustic Club

"Great original stuff from this songmeister, James is a true talent, refreshingly inventive and accessible." - The Queen's Head, Monmouth

"A Marvel!" - Rose and Crown, Charlbury

"James Hollingsworth is no stranger to Bristol audiences and we have come to expect strongly crafted, beautifully sung songs and stunning guitar work." - Crackerjack

"Went to see James Hollingsworth Perform in his show 'Song of the Windsmith' in Stroud - if you want to see someone who really knows how to use a 'looper' - check this man out - from creating WW1 dog fights through Peruvian mountain scapes to huge choral rock opera - and all with one acoustic guitar - just EPIC !!!" - www.thesongdiner.co.uk

"truly a phenomenal experience" – Barry 'The Fish' Melton

"I never have to use any Auto-Tune on James' voice" - Alf Kingston

"The Bristol troubadour returns with another exciting, stimulating and versatile evening of self penned numbers. James is very special and continues to receive rave reviews wherever he plays." - The Queens Head, Monmouth

"A true exponent of the modern British singer/songwriter - a real gem" - Monmouthshire Music

"A warm welcome awaits this fine musician from Bristol. James did a floorspot here back in October and we booked him on the spot. James performs regularly several times a week up and down the country honing his incredible talent. He has an extraordinary vocal and is a genius guitar player too." - Seend Acoustic Club.

"Yet another change of style next with James a solo singer/guitarist full of charisma and star quality singing his folky/rock numbers in for me the manner of Cat Stevens who I am sure would have been proud to have written some of the material on display. Really enjoyed the up-tempo Way Down South and the very atmospheric Still Lights Up the Rain complete with the story behind the song, both from his 2007 CD 'Coming Home to Stay'. James combined rich vocals, excellent guitar and great humour between numbers, he played a strong set set finishing with 2 real gems Faster Than Light and the epic Mothership." - Get Ready to Rock

"The much-touted young Bristol-based guitar wizard and songwriter, who has been compared to Richard Thompson, Al Stewart and early Fleetwood Mac, travels in possession of a mean harmonica style and a rapid-fire, Spanish-influenced guitar-picking technique."
- 5 Best Gigs - The Independent

"Let's just say that this guy had a voice. I don't mean like a normal everyday voice. I mean one of those singing voices that is so powerful and full of emotion that it was hard not to feel blown away by how good he was. Hollingsworth's songs were at once folky, soulful, insightful and emotional and his audience banter was also there in spades, making him a very prolific performer. A testament to how good this guy was is that he had no shortage of people offering to buy him drinks both during and after his set. If you get a chance, see James play as soon as possible as it won't be too long before he's picked up by a record label." - Wiltshire Ocelot. Read full review here.

"James Hollingsworth is one of my top ten favorite male singer/songwriters of all time!"
- Van Casey - MUSIC AND SPIRIT - read the full review here

"We're reminded of early Fleetwood Mac, Cat Stevens, Richard Thompson, Doobies and Al Stewart, just to give you an idea... but James Hollingsworth has a blissfully original sound." - Lemonrock

(nb Lemonrock chose Way Down South, from the album Coming Home to Stay, as their Song of the Week.)

"stunning and thought-provoking... a real artist in a sea of imitators. Hollingsworth is UNIQUE and dare I go out on a limb, I don't think he has an equal" - `Eden Dust Records

"James Hollingsworth is both incredibly talented as a vocalist and guitarist. His carefully considered songwriting has made him popular on Bristol's acoustic circuit and he is able to turn his talents to a range of styles from ballads to blues and rock." - New Bristol Jazz

"Honest, down to earth meaningful lyrics. The world needs more music like this."
- Folk Blues and Beyond

"It's rare nowadays for it to be irrefutably true that a vocalist genuinely means every word he sings. This much doesn't so much confirm itself to be true as leap out from behind a nearby rock and slap you about the face with a frozen kipper." - Live Music Scene (read the full review here)

"His live vocals are better than many artists' studio vocals." - www.rambles.net

"Hollingsworth paints canvas with his songs, there is something almost visual about them."
- FATEA Records

"I love this... a great sound and voice." - DJ Love (newmusicradio.net)

"James has really established himself now as a prolific song writing machine. He continues to come up with clever lyrics and haunting melodies... one of the best song writers in the country. We should be able to add him to our Famous Bristol Musicians Section soon!" - Bristol Rocks

"What a Singer!" - John Burns, Producer Genesis, Burning Spear, JEBO & others.

"James Hollingsworth was a revelation. His songs were sharp and melodic, the voice demanding attention and guitar-playing top quality. " - Bristol Community Festival.

"Taking time off from his other job, as lead singer with rock band JEBO, James Hollingsworth moves into his singer-songwriter mode, a field in which he has proven himself one of the most intriguing on the current Bristol scene. His complex guitar style is just as interesting, with a southern Spanish feel to it." - Bristol Evening Post

"A calm veteran of the underground Swansea scene in the early 1990's, James has struggled through fire and water to produce his stunning and unique music, which often resembles both. His songs are about peace and love, and his improvisations carry you away on a light breeze of thoughtfulness. Check him out at various venues in the West Country." - Absolute Zero

"An excellent and frenetic fingerpicker" - www.acousticmusic.com

"James Hollingsworth's main stage set on the Saturday afternoon of the festival ranged from what was grounded in the traditional – a voice buzzing in the ear, the familiar plucked guitar – to what seemed to border on the celestial, as both voice and a much effected, but delicately measured, acoustic guitar swept back and forth across the arena. James' performance was captivating…truly so, as many followed him to the intimate surroundings of the Bar Stage later in the afternoon, where an equally diverse mixture of songs and styles was in evidence." Abbey Mill Folk Festival, 2006

"James Hollingsworth is a guitarist, singer and mean harmonica player. For anyone who's serious about their music this night is an absolute must, and there are hints of the great Bob Dylan himself in Hollingsworth's music." - www.thisisbristol.com

"He is without a doubt a rising singer-songwriter of the new era of Folk." - Indie World Cafe

"a superb voice and an extremely talented multi-instrumentalist" - Focal Music

"James Hollingsworth - unique, complex, talented - one of Bristol's finest singer/songwriters is causing a few waves. This is a major talent that you'll really want to check out!"
- www.safeconcerts.com

"Brilliant" - www.songlines.co.uk

"Amazing" - Tantric Jazz Cafe, Bristol.

click to download a poster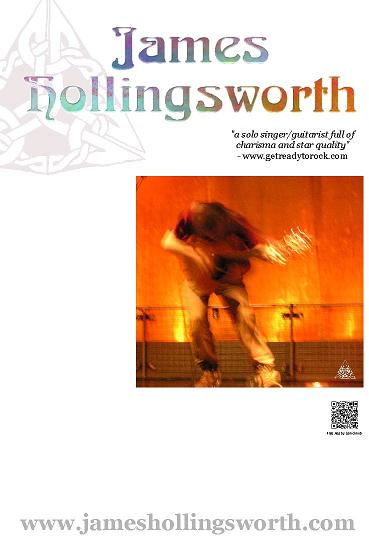 There's space at the foot to add details of a gig near you.


| | |
| --- | --- |
| | Industry Downloads |

| | |
| --- | --- |
| | Download Fact sheet as pdf. |

| | |
| --- | --- |
| | Download Media Quotes as pdf. |

| | |
| --- | --- |
| | Download Technical Requirements as pdf. |

| | |
| --- | --- |
| | Download Hi-Res PHOTO (5.6MB zip) |